Back to Value, dematerialisation
Come accennato nel post precedente, Back to Value, vediamo ora di sfruttare gli strumenti che comunemente utilizziamo per ottenere una versione "digitale" ed integrata del Product Canvas.
E' utile fare una premessa: il Product Canvas dà il meglio di se in versione "materializzata", quindi è opportuno che tutte le discussioni relativi (Inception Meeting, Iteration 0, ecc…) vengano effettuate con un bel Canvas fisico, con tutti gli strumenti tipici. La versione "dematerializzata" è utile per poter conservare in modo più efficace (non la semplice foto!) il lavoro prodotto e consentire di visualizzare i risultati ottenuti anche a stakeholder fisicamente non localizzati nella stessa struttura. Si tratta dello stesso approccio che suggerisco per la Kanban Board.
Ma veniamo all'oggetto del post.
Step 1
Il primo passoè quello di creare/dotarsi di una versione digitale del Product Canvas, realizzato sfruttando PowerPoint, come quello mostrato nella figura seguente: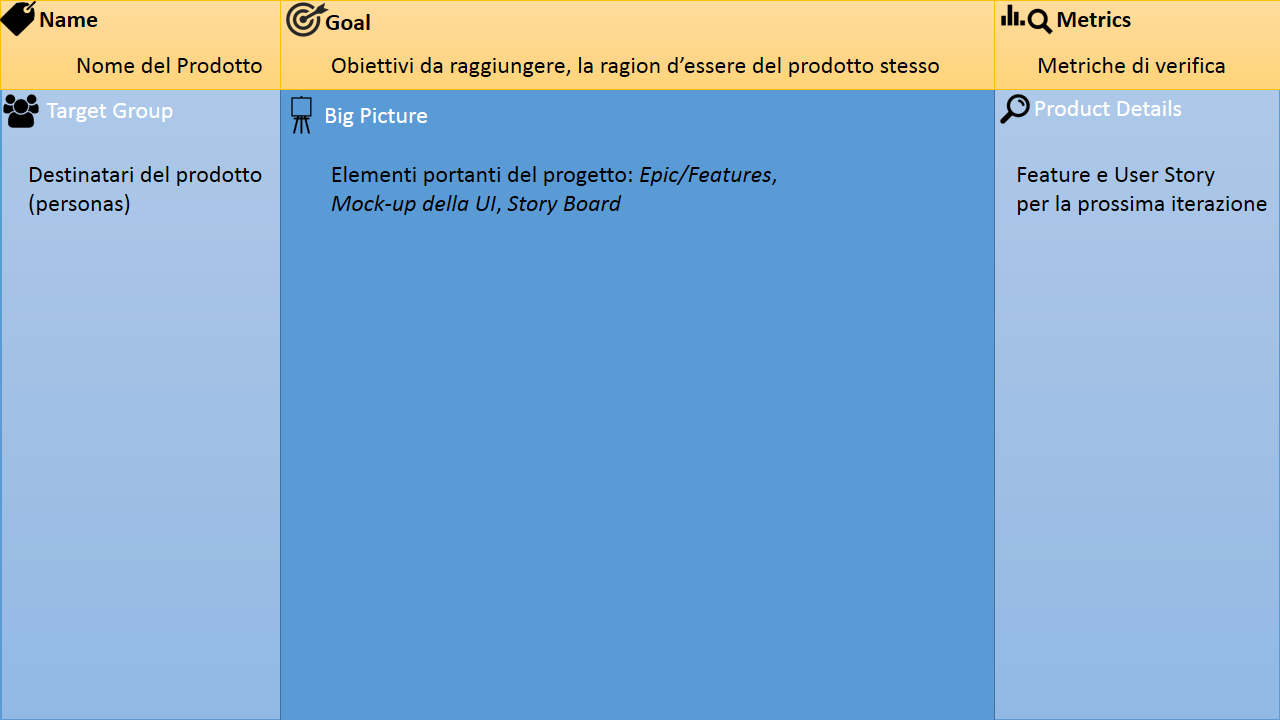 Product Canvas PPoint Template
A questo punto, una volta fatte tutte le modifiche opportune, riempito il Canvas e aggiunti gli elementi di Story Board (consigliato), non resta che linkare direttamente il nostro elaborato direttamente a TFS in modo da condividerlo con gli stakeholder di progetto.
Step 2
Sempre in PowerPoint, selezionate "STORYBOARD" dalla Ribbon bar e poi attivate la voce "Storyboard Links". Si aprirà una finestra simile alla seguente: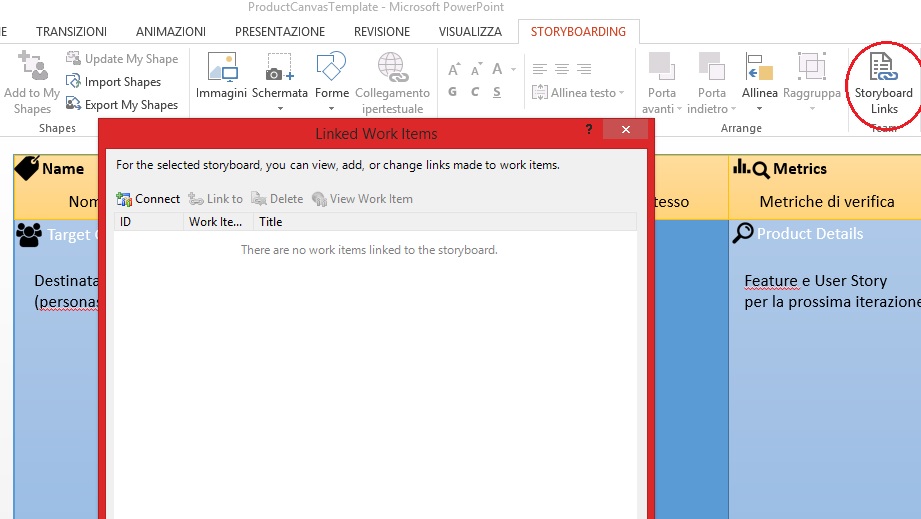 Linked Work Item
Step 3
Selezionate "Connect", scegliete il server TFS di riferimento e il Team Project a cui volete associare il Product Canvas: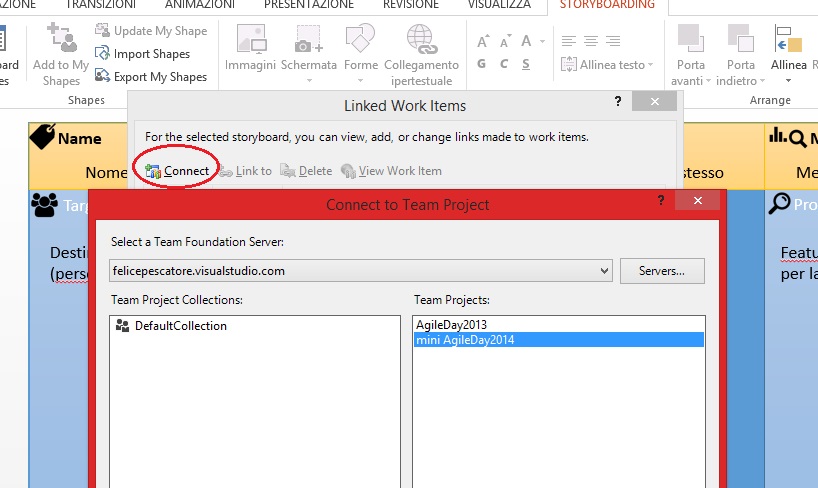 TFS Server & Team Project Selection
Step 4
Selezionate il WorkItem a cui collegare il Product Canvas (nell'esempio della figura seguente: "Product Canvas Definition") e confermate l'operazione: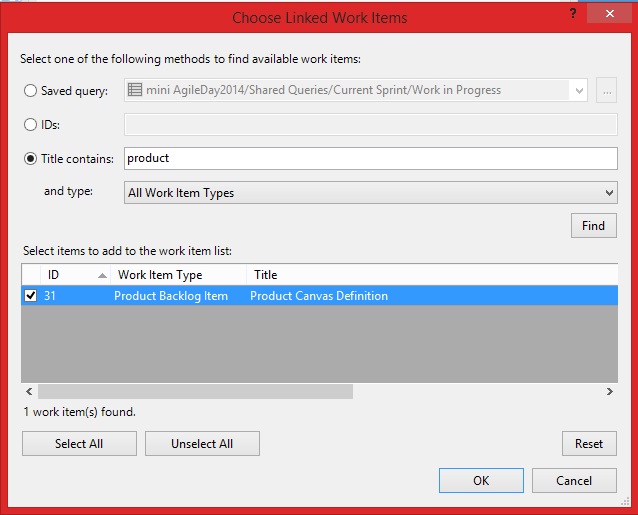 Scelta Work Item
Step 5
Il linking è avvenuto con successo e non vi resta che chiudere la schermata di riepilogo: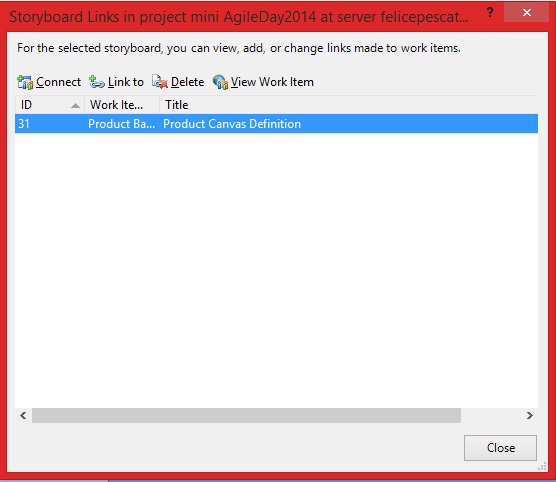 Ripeilogo
Possiamo ora verificare se tutto è andato a buon fine, aprendo VisualStudio Online, selezionando il progetto e visualizzando i dettagli del Work Item "linkato":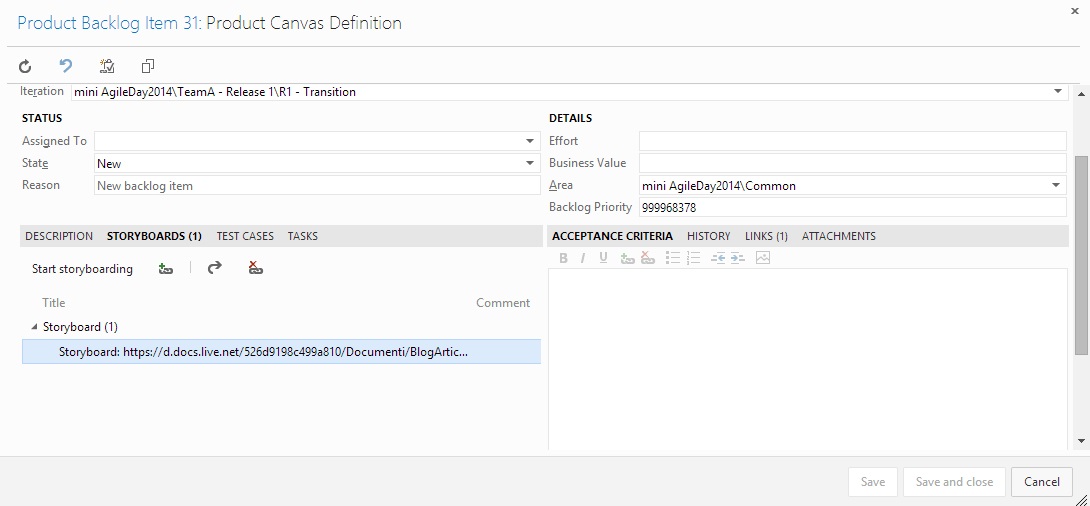 Work Item & Product Canvas linked
Il file deve chiaramente risiedere in una directory condivisa (eventualmente sharepoint) per poter essere accessibile da chiunque e non risiedere sul vostro disco privato.
Bene, a questo punto abbiamo definito il MODELLO, abbiamo creato il TEMPLATE e collegato il tutto a TFS e ora… non ci resta che "disegnare la tela". Lo faremo, però, nel prossimo post.