Back to Value, draw the canvas!
Dopo aver presentato il Product Canvas ed avere mostrato, brevemente, come integrarlo con gli strumenti comune in ambito ALM Microsoft, non ci resta che passare alla parte più interessante: dipingere la tela!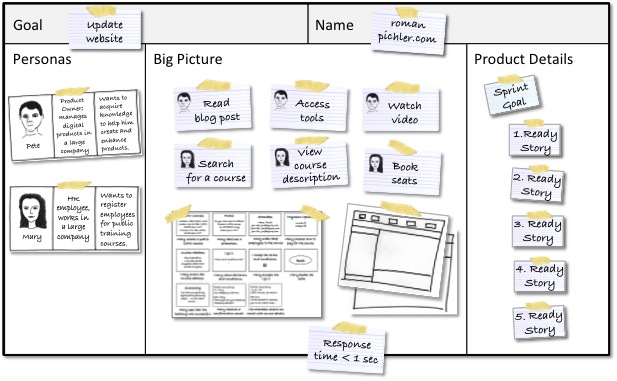 Un Product Canvas "popolato" (Roman Pichler)
Il product Canvas è pensato per essere "esplorato" e "popolato" da sinistra verso destra e, quindi, la prima area che va riempita è quella relativa al "Target Group", utilizzando l'approccio personas-oriented.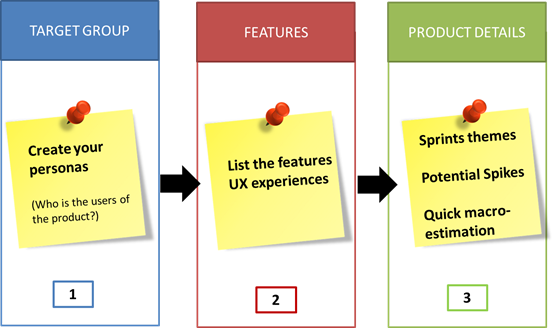 Se si riflette un attimo su questa priorità, ci si rende conto che è assolutamente ovvia ed in linea con un approccio Agile/Lean alla creazione di soluzioni IT.
Il secondo passo è quello di riempire la "Big Picture", descrivendo le Features del prodotto attraverso tutti gli elementi che riteniamo idonei a rappresentarne la Vision. Ben vengano, quindi, user-story, StoryBoard, disegni della UI, ecc. Sono, invece, del tutto banditi elementi specifici dell'attività di implementazione: non troveremo mai: "creare le interfacce di accesso al db".
Infine, il terzo step, è quello di decide quale feature verrà sviluppata nella prossima iterazione di sviluppo, elencando le relative user-story ed evidenziando eventuali attività atte a esplorare specifiche soluzioni o a ridurre il rischio.
Attenzione però a non interpretare questi step come sequenziali in senso stretto. Dopo la prima formalizzazione (sequenziale), l'intero Product Canvas va incontro a continue review e aggiornamenti, dovuti al know-how di dominio, continuamente aumentato man mano che si procede con il progetto.
Ecco il punto: il Product Canvas è uno strumento di apprendimento che posa la sua essenza sul tanto amato pattern inspect-and-adapt.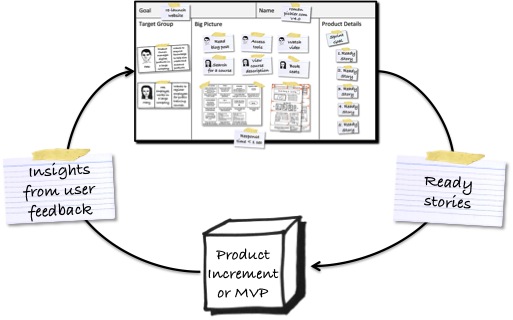 Product Canvas come strumento di apprendimento (Roman Pichler)